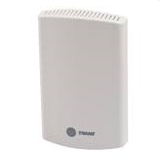 Indoor Wired Temperature Sensor
Overrides the internal temperature sensor of select Trane and American Standard thermostats, allowing the thermostat to be installed in a different location from where the temperature is measured.
Dealer only item
Not sold via retail to consumers
*Requires a Trane/American Standard XL824/850/1050 smart thermostat or an alternate Z-Wave Bridge in order to communicate with your Home app.
**Requires a paid Subscription. View the Nexia subscription plans here, American Standard Home subscription plans here, and Trane Home subscription plans here.
Tech Specs:
Model #: ZZSENAL0400AA